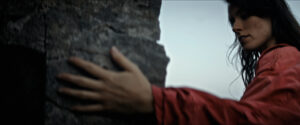 Sophie is a contemporary dance artist with training and experience in somatic movement practices.
Originally from Waterford city, she has recently relocated to East Clare.
She has always sought to give word to thought through movement. Her expression of dance is an attempt to articulate her lucid imagination and her strong belief in the human spirit, something she feels can be disarmed and united through creative output.
Following her training at the Northern School of Contemporary Dance in Leeds, UK where she was based for almost ten years, Sophie worked as a dance practitioner within local organisations including Yorkshire Dance and Kala Sangam Arts Centre.
As a performer, she has worked with Company of Others(UK) and Song of the Goat/Teatr Piesn Kozla (Poland).
She enjoys working collaboratively particularly with poets and muscians and is keen to connect with other dance artists and choreographers here in Ireland as well as continue to share her dance and movement practice within schools, carehomes and other community settings.